Necessary Enhancements to Common Light-Frame Building
Common light wood-framed construction methods have continuously evolved, yet average builders utilize dated methods because they've "always done it" one way. Become informed; don't miss key opportunities for performance improvement. Discover here several strength, durability, and efficiency-enhancements available today.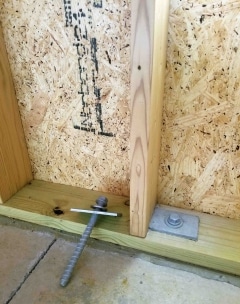 Simpson Strong-Tie Titen HD Wall Anchors
Typical foundation anchor bolts are installed in wet concrete, with no forethought or plan to avoid conflicts with framing members.  Titen Heavy Duty wall to foundation anchors are a retro-fit solution, installed after critical framing elements are in place.  This allows for careful consideration of this crucial anchoring connection, including installation of large hold-down washers called 'bearing plates', without hacking at studs to accomplish the finished result.  Titen HD Anchors and Bearing Plates by Simpson StrongTie are fast, convenient, and therefore easy to install – and ensure a super-strong connection of walls to the building foundation.  We have personal experience inspecting buildings after a high-wind event blasted one town, sweeping average-built structures cleanly off their foundations.  If good building practices matter to you, chose this retro-fit solution where the details can be executed correctly.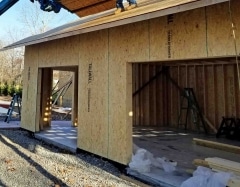 Norboard Tall-Wall Sheathing
Wall sheathing is incredibly important to the strength and durability of most light wood-framed buildings.  Installed correctly, it distributes forces such as wind and gravity throughout the structural framing elements.  Fewer panel seams (joints) are better, as these connection areas can introduce weakness to the structural system.  Taller sheathing – such as Norboard's "Tall Wall" sheathing shown here – allows both bottom and top plates of a wall to be locked together with a single panel sheet without the weakness of a horizontal joint that framers may/ may not remember to reinforce correctly.  The 10-foot-tall sheathing panels shown here also engage the tall energy-heel ends of the roof trusses, securely transferring roof forces through the wall top plate- stud- bottom plate framing into the foundation.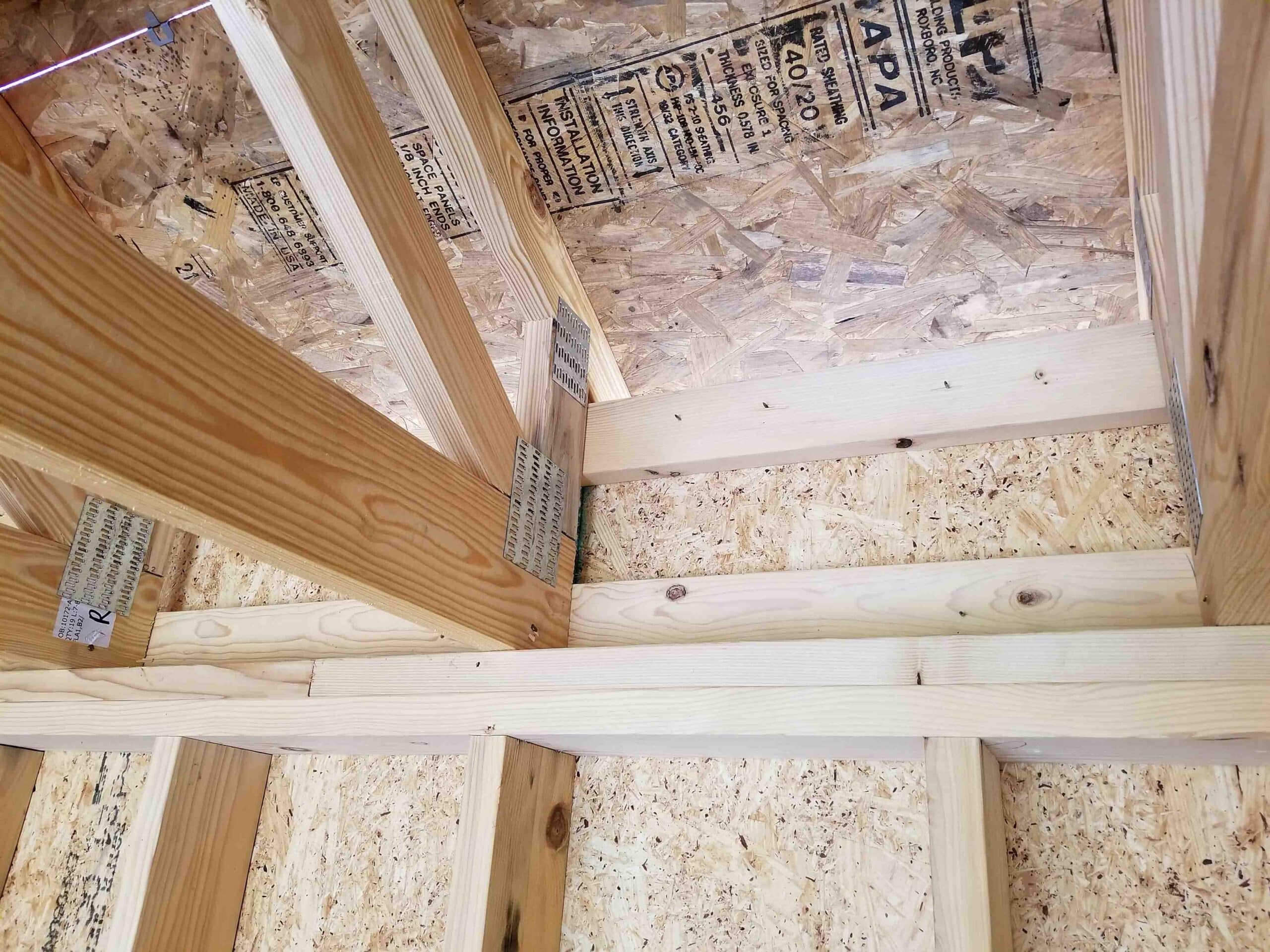 Raised-Heel Roof Trusses
The ends of roof trusses typically bear over an exterior wall, where insulation is naturally desired.  Taking care to specify 'raised-heel' trusses allows the insulation team to install full-height attic/ ceiling insulation across the entire ceiling plane – out and over the wall top plate.  This results in improved thermal performance for both the wall and the roof, saving you money and improving durability.  Raised-heel trusses (combined with air-tight ceilings) help eliminate costly ice-dams at roof eaves.  Ice-dams occur in winter weather where accumulated roof-top snow melts, flows downward to eaves, refreezes at night, thereby causing next-day melt water to dam or pool over the roof cladding since it's path down-slope is blocked by unmelted ice.  Pooled water seeps into roof claddings, draining into attics and wetting insulation and ceiling finishes.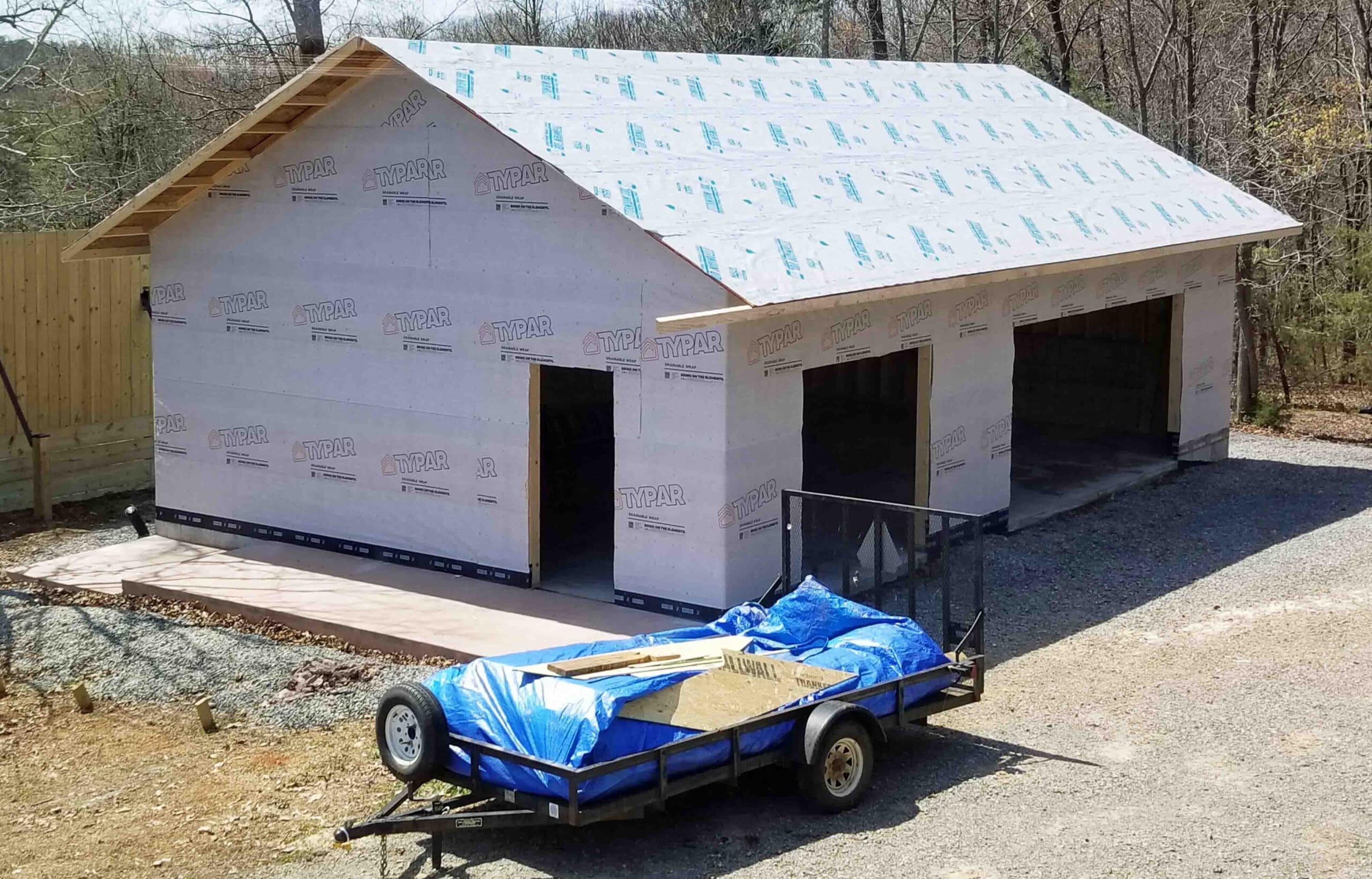 Typar Drainable Wrap & Titanium Roof Underlayment
Weather-resistive barriers help buildings reject liquid water – an important consideration when you realize water causes the majority of damage buildings endure. Housewraps on walls, and underlayments on roofs, are both forms of weather-resistive barriers, and substantial evolution has occurred with these in recent years. For walls, we deem the performance of Typar wraps superior. When an engineered wood siding is used, like LP Smartside products, or when a fiber cement siding is used, like James Hardie products, we prefer at minimum Typar's Drain Wrap. As the name suggests, this textured wrap is capable of back-draining the siding to some extent. Most-preferable of course are drained and ventilated rainscreen systems offering a substantial gap between the wall and siding (1/4 to 3/8 inch, for example). But Typar's textured sheet product Drain Wrap can function successfully on many walls, like the one shown here, at a substantial installed cost-savings.
InterWrap's Titanium UDL family of roofing underlayments are preferable for their light weight yet rugged performance, coupled with a highly-textured surface providing sure-foot safety during finish-roofing installation. Typical builder-grade 'tar paper' is dramatically thinner than in years past, and has trouble surviving even one rain-storm prior to finish roofing installation. Titanium UDL products can be exposed up to six months during construction, and remain relatively flat and completely secure.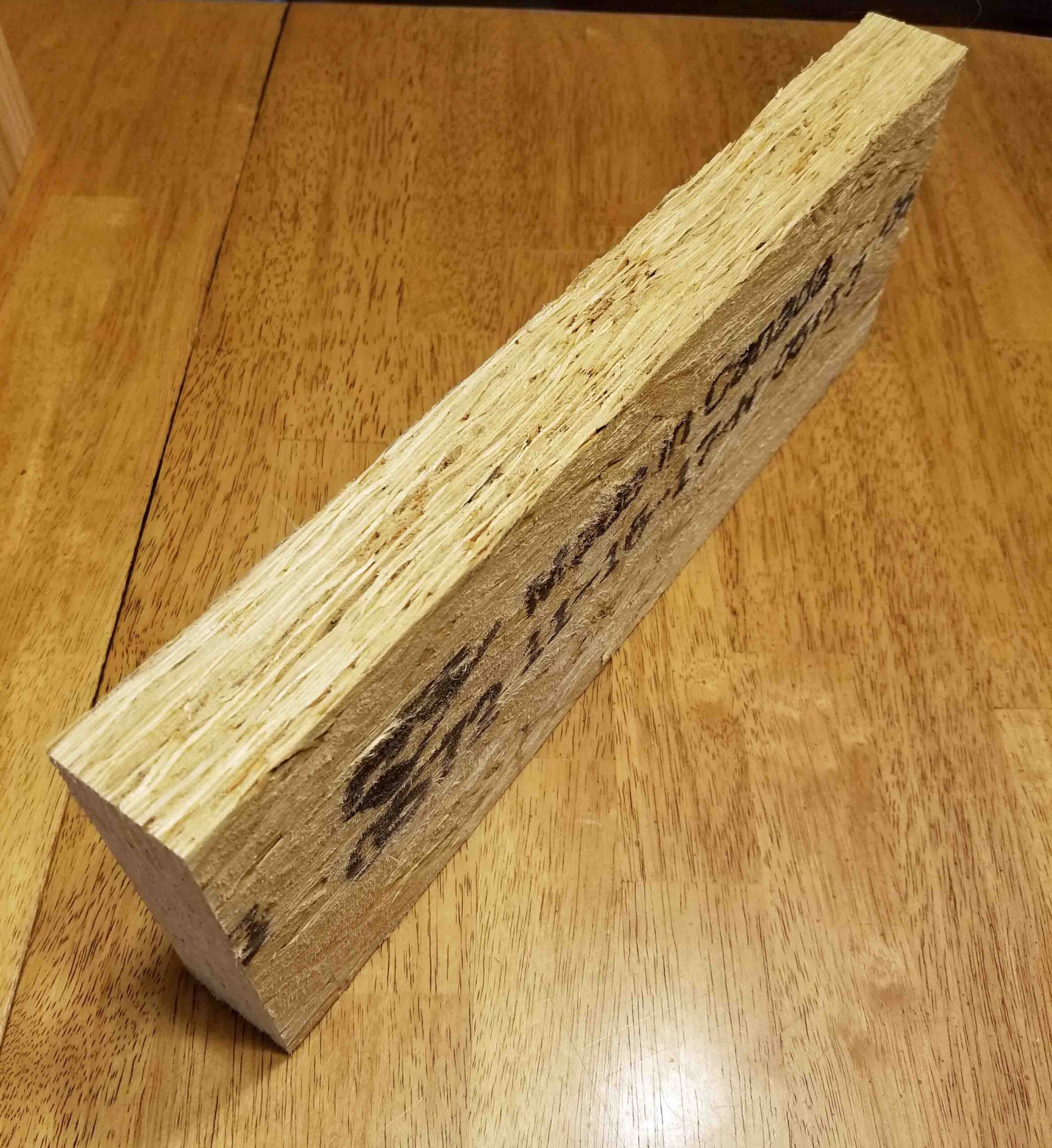 TimberStrand LSL Lumber
Can you imagine a dream home built on a beautiful gem of a lake in the Blue Ridge Mountains of Virginia – say Smith Mountain Lake – featuring a great room with a tall wall of windows to capture our beautiful views ?  Could you then imagine that wall framed so poorly you could grab it with your hand and bow it in/ out several inches of deflection ?  No ?  Average builders can, and may not think twice about it.  If wall durability and un-cracked window seals matter to you, require that tall walls are built with better lumber – like Weyerhaeuser's TimberStrand LSL lumber.  Visible in a tall wall arrangement at the top, leading image on this page, the laminated-strand-lumber (LSL) material in TimberStrand provides exceptional strength, stiffness, straightness, and forest-resource efficiency all in one product.  TimberStrand LSL is one of several types of engineered lumber we utilize on projects to maximize performance while minimizing labor and waste.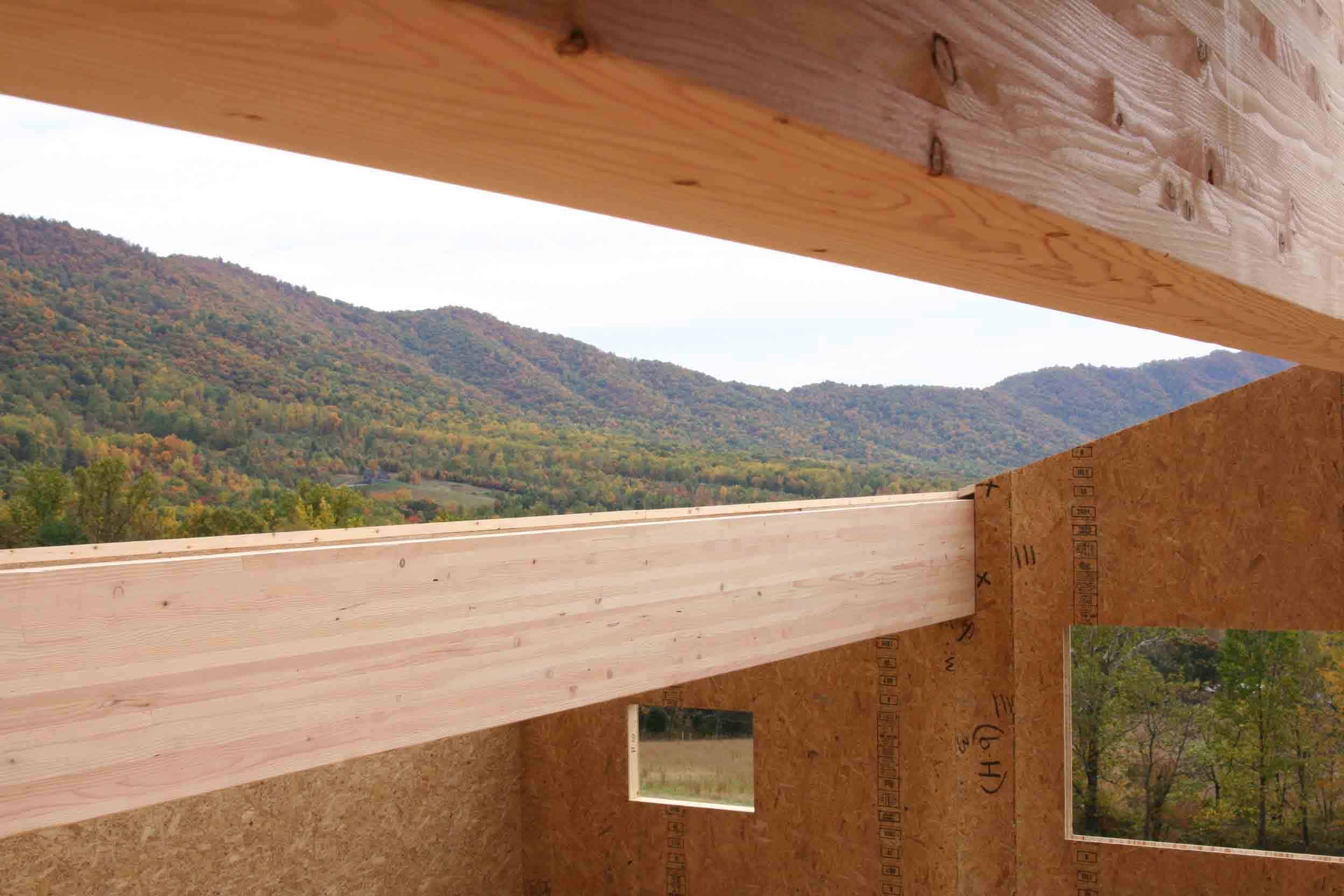 Glulam Beams
Between typical stick-frame construction and full timber frame, there exists a broad and colorful spectrum of hybrid choices.  Select beams can be used, for example, to support roof structures in a sleek, modern aesthetic.  Glulam beams are a perfect choice in such application.  Glue-laminated plys are layered together, typically bound with a permanent, structural polyurethane adhesive.  The glulam beams shown in this picture were graded 'architectural' for superior, finish-grade appearance, and are made of douglas fir wood.  As an engineered wood product, they maximize performance – strength, straightness, forest-resource efficiency – while minimizing construction labor and waste.