Timber Ridge Craftsmen, Inc.is proud to be one of Virginia's finest and most diverse custom home builders, serving Roanoke, Bedford, and Franklin Counties.
In addition to our experience and expertise designing and building homes with advanced home building systems, we specialize in historic and traditional building systems such as timber frame, hybrid timber frame, post and beam, log, and conventional "stick" construction.
Timber Frame & Post and Beam Homes
The exposed wood structure of a timber frame or post and beam home offers exceptional beauty. A tradition centuries old in Europe and America, and over a thousand years old in Japan, crafting the core frame of a structure from whole logs or timbers can be a decidedly "green" choice. Timber is harvested and fabricated locally — and then assembled by local craftsmen and craftswomen who take pride in working solid wood into architectural elements that last generations. It's an ancient and traditional building practice, perfect for a new era of sustainable and energy efficient construction.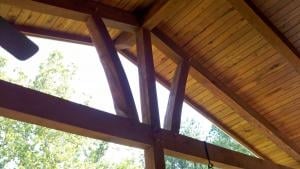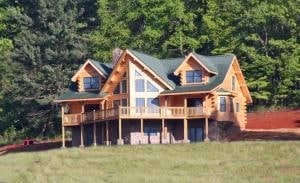 Log Homes
Log homes offer a rustic appearance and classic beauty — but they require careful planning, specifications, and attention to detail. These homes are popular in the Blue Ridge Mountains, though they tend to have a longer assembly time, lower enclosure system energy efficiency, and higher maintenance requirements.
Conventional Stick-Built Homes
Also called "light frame" construction, these homes feature wood framing members or, less commonly, light-gauge steel framing members. We optimize or "value engineer" light frame construction to maximize the benefits offered by this method and minimize the limitations inherent in stick construction. Wood light frame assemblies, as with SIP, timber frame, and ICF assemblies, can be optimized to achieve passive house levels of energy efficiency.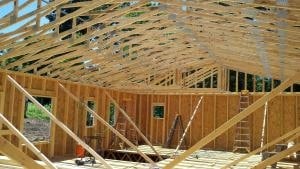 Our Streamlined Design-Build Process
At Timber Ridge Craftsmen, we follow an integrated design-build process which allows us to realize your goals and ensure a high quality build:
Design

Specifications

Build
This process includes careful planning for your home and maintains attention to detail from start to finish.
Interested in building a timber frame, post and beam, or log home in the greater Smith Mountain Lake region? Call 540-797-3059 or contact us to talk to our team!

Looking to build a custom home in Virginia?
We're one of Roanoke area's finest home builders.
540-797-3059