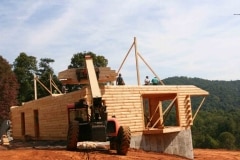 Interested in building a log home in the greater Smith Mountain Lake region, including Roanoke, Bedford, and Franklin Counties? Timber Ridge Craftsmen, Inc.is one of Virginia's finest homebuilders and is dedicated to helping you design and build a log home that suits your taste and lifestyle.
The Classic Beauty of a Log Home
Log home construction is an iconically rugged, rustic, and traditional building method. Log homes are constructed by stacking large logs horizontally to form the walls, where the same piece of wood forms both the inside and outside walls.
Log homes are especially popular in the Blue Ridge Mountains, though they tend to have a longer assembly time, lower enclosure system energy-efficiency, and often higher maintenance requirements.
Before You Purchase a Log Home Package
There are many package log home dealers in the log home industry. We do not work for any log home dealer, distributor, or fabrication shop. This means, of course, that we work for you.
Before paying to initiate a design or start concept drawings with any package log home company, talk to us. We can give you guidance and advice on the best way to design and build a log home. Our team is knowledgeable of the challenges and opportunities inherent in this building style, including:
Energy efficiency
Durable design (versus "log home bling")
Maintenance
Wood species considerations
Labor saving design (versus labor "sinks")
Buying packages (what to include in a package and what to remove)
Sequencing package delivery (don't let them deliver the front door brass kickplate at excavation)
Sequencing package payments (you control your money)
Designing Your Custom Log Home
Log home construction requires careful planning and attention to detail. If you're interested in building a log home in the Smith Mountain Lake area, get in touch with Timber Ridge Craftsmen. Our team understands the unique challenges of building a log home, and our streamlined design-build process makes it simple to realize your goals.
Looking to build a log home in the Blue Ridge Mountains? Call 540-797-3059 or contact us to get in touch with our team!