Post and Beam Timber Building
Timber Ridge Craftsmen is a designer and builder of custom homes at Smith Mountain Lake, in the Blue Ridge Mountains of Virginia. In addition to common light frame construction, heavy timber frame homes, and log homes, our team can help you with designing and building your new post and beam home.
Post and Beam vs. Timber Frame
Post and beam building is a modern variation on timber framing. With traditional timber frame construction, timber connections are mostly made with hand-worked joinery and feature wood pegs (also called trunnels or dowels). In contrast, post and beam construction features exposed metal plates, bolts, pins, rods and the like.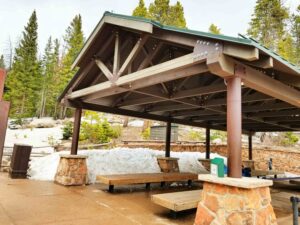 The Beauty & Benefits of Post and Beam Construction
Classic post and beam building offers a rugged craftsman yet modern look. Metal connections are often powder-coated or painted black, bronze, or brushed steel. The design aesthetic can be shifted more to a modern industrial look as well, especially when paired with hand-worked masonry units such as brick or square-cut stone.
Post and beam construction usually features timbers with a square or rectangular profile. This construction style can also be applied to logs-in-the-round, presenting round posts, round plates, round rafters and truss struts connected with steel plates and bolts — hewing to a more rugged, frontier design.
Start Designing Your Custom Post and Beam Home
At Timber Ridge Craftsmen, we've established a simple and comfortable custom home design process that helps our clients fine-tune and realize their goals. Whether you already have ideas for your post and beam house or need guidance on where to start, our team can help you design and build a beautiful post and beam home that perfectly suits your taste and lifestyle.
Learn more about designing and building a custom post and beam home with Timber Ridge Craftsmen. Contact us or call 540-797-3059 to talk to our team!
Interested in building a post and beam home?
Learn more about our simple design process.
540-797-3059