Timber Ridge Craftsmen, Inc.is one of Virginia's most diverse home builders. We have experience and expertise designing and building with a broad spectrum of advanced home building systems, including SIPs, hybrid timber frame, ICFs, modular & panelized homes, advanced framing techniques, engineered wood components, and metal frame construction.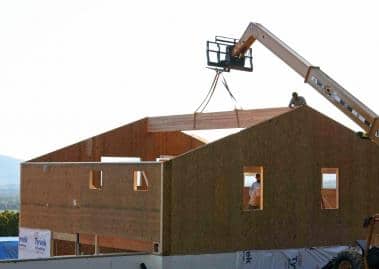 Structural Insulated Panels (SIPs)
Structural insulated panels (SIPs) offer valuable benefits, including strength, accuracy, and speed of construction.
SIPs must be installed in an airtight manner for optimum comfort, air leakage reduction, and energy saving benefits. When installed properly, these insulated wall and roof panels also reduce thermal bridge energy losses through framing members.
SIPs are a pre-planned, engineered building system, fabricated under factory quality controls. Building with SIPs reduces on-site construction waste.
Hybrid Timber Frame
Solid wood timber framing is a tradition that is centuries old in Europe and America and over a thousand years old in Japan. The exposed wood structure is intrinsically beautiful.
Hybrid timber framing is a modern technique of adding non-timber-framed rooms around a central timber frame core. Such rooms are framed using a cost effective combination of SIPs, engineered carrying beams, and/or traditional framing methods. SIPs are the most common method for hybrid timber framing, due in large measure to their outstanding performance as a structural enclosure with reduced thermal bridging.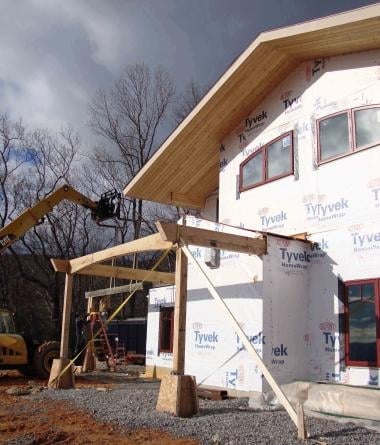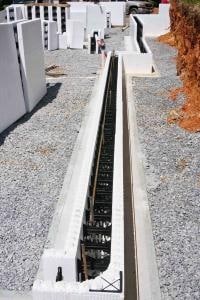 Insulated Concrete Forms (ICFs)
Insulated concrete forms (ICFs) are a newer technology employed in some ultra energy efficient homes. ICFs are suitable for both below-grade and above-grade wall assemblies.
ICF construction offers numerous benefits, including exceptional energy efficiency, airtightness, greater resistance to wall structural damage caused by windstorms, reduced sound transmission, and greater resistance to moisture damage due to their mass moisture storage and drying capability.
Insulated pan or raft systems are also available, allowing for elevated and insulated concrete floor and roof assemblies.
Modular & Panelized Home Systems
We have experience designing and building with modular home systems and have a preferred local vendor who excels at creating home modules and wall panels in a factory controlled environment. We partner with our preferred vendor to create and prepare the foundation on-site, set and finish the modules or panels, and complete the home building process from there.
Optimum Value Engineering (OVE)
Once considered avant-garde, this is now our standard site "stick" framing protocol. Also called advanced framing, this method of framing relies on the following practices to increase the energy and resource efficiency of the home:
Aligning floor, wall, and roof gravity load paths
Employing fewer yet stronger framing members to increase strength, reduce cost & reduce thermal bridging
Incorporating intelligent detailing of wall structural headers, corners & intersections
Use of engineered wood components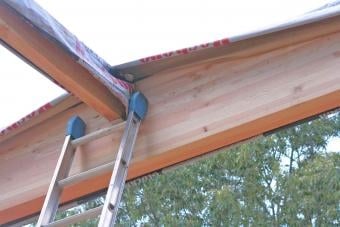 Engineered Wood Components (EWPs)
There are numerous options available for fabricated, engineered wood components (EWPs). Some of these can be beautiful, as in the case of architectural glulam beams and posts. Most EWPs are well suited for energy and resource efficient home construction, including:
Glulams
Structural composite lumber
Engineered floor trusses
Engineered roof trusses
Metal Frame & Metal Components
We have experience building with both light and heavy gauge metal framing, though both are more common to commercial and industrial construction. We routinely use Metwood fabricated beams to strengthen floor systems, increase clear-spans to yield more useable floor space, and create home garages with workshop or storage space below.
Looking for an experienced custom home builder in the Smith Mountain Lake, VA region, including Roanoke, Bedford, and Franklin County? Call 540-797-3059 or contact us to learn more about our custom home design-build process.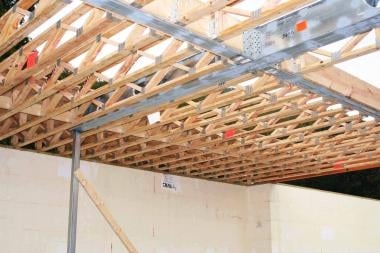 Looking to build a custom home in Virginia?
We're one of the Roanoke area's finest home builders.
540-797-3059